Paraphrasing Tool ( Paraphraser )
Paraphraser helps you to rephrase any text. Rewrite as many articles as you want with this free rewording tool by simply pasting the text in the given box and clicking the Paraphrase button.
Demo Video (Paraphrasing Tool)
How to Use Article Rewriter (Paraphrase online)?
Using an article rewriter has never been this easy. You can use our content rewriter like a pro. All you need to do is follow the simple steps :
Step 1:
Enter the text in the text box or you can click on the "Upload Your File" button and select your desired text file.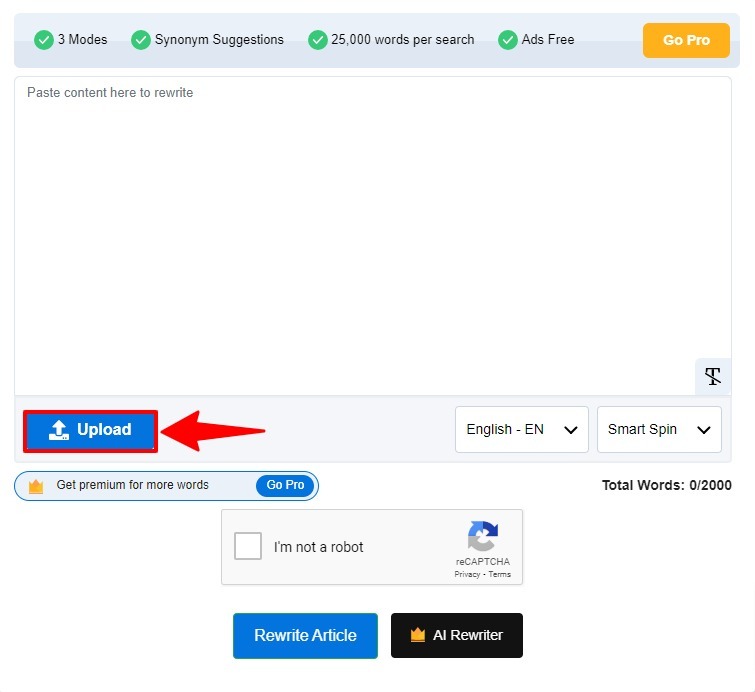 Step 2:
Check Google Captcha. (security concern)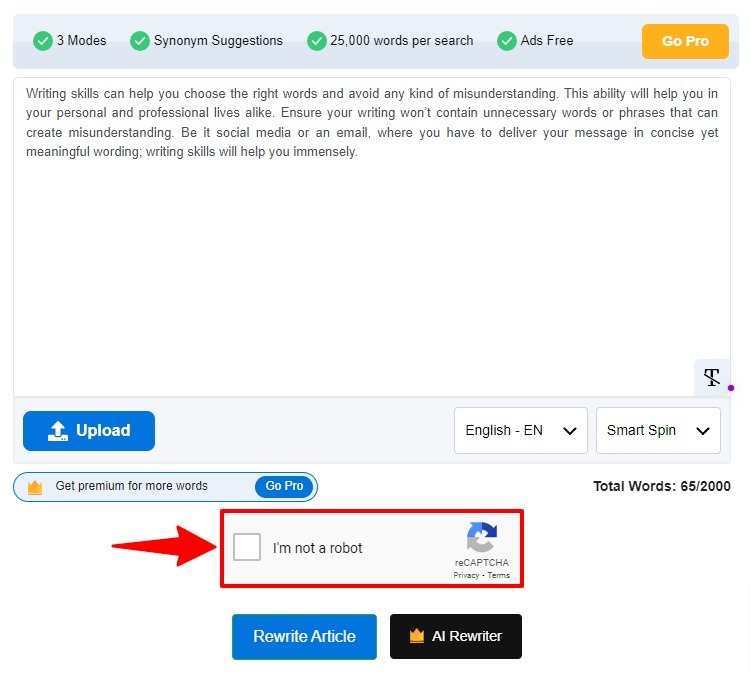 Step 3:
Press the "Rewrite Article" button.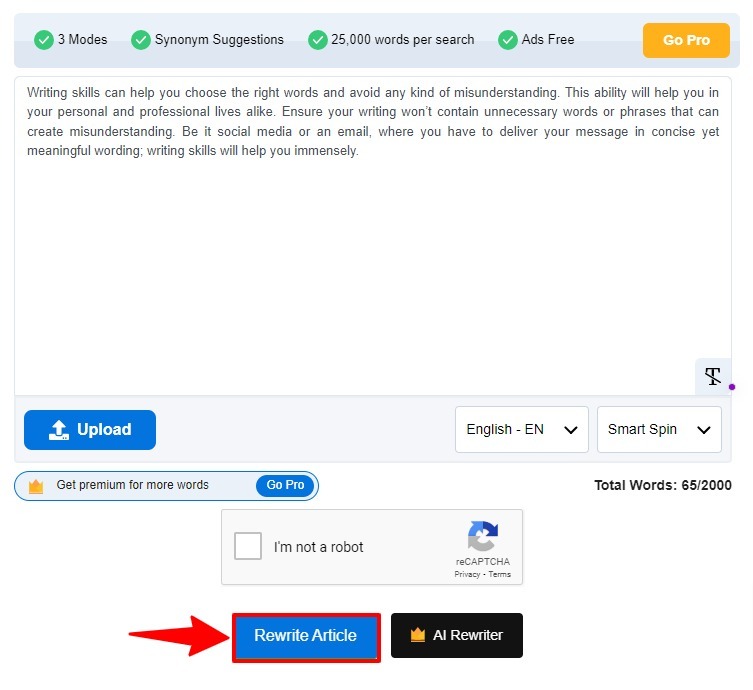 Step 4:
Check rephrased results in the Output Section.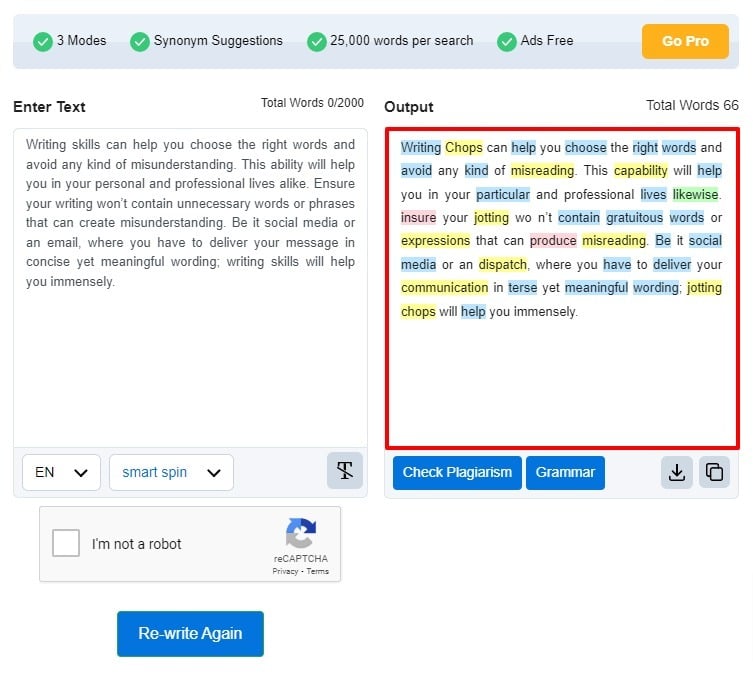 You can also rewrite your content or check the grammar of your paraphrased content.
Why Use a Paraphrasing Tool?
The word changer is becoming increasingly popular in both the web and academic worlds due to several reasons. You can utilize the paraphrasing tool available on DupliChecker in multiple situations. Some of them are discussed below!
Improve Your Vocabulary
The paraphrasing tool is known for providing you with a list of synonyms that can be replaced with the words you've used in the entered text. This tool can help you figure out the better choice of words according to the context of the content.
Your vocabulary will be significantly improved with the continuous usage of the rewriting tool. This way, you will be able to bring variety in content and avoid using similar words, which negatively affect its readability.
To Meet Short Deadlines
People are often involved in writing jobs with short deadlines due to their hectic schedules and lots of work. If you are also facing such a situation, you can rely on our paraphrase tool. With already written content, you can generate a new version by placing it on our rephrasing tool.
Our paraphrasing tool is known for its smart and advanced algorithms; therefore, you won't have to worry about time, as this rephrase tool will do the job in a matter of seconds.
To Generate High-quality Content
Creating high-quality content has always been an issue for non-native English writers. However, they are still willing to work in the writing field due to their passion. The quality shouldn't be an issue while writing; hence, you can easily avoid this issue with the assistance of our best article rewriter.
This paraphrasing tool provides its users with high-quality rewritten text. People generally avoid using rewriting tools because they don't trust their quality standards.
However, the AI-based algorithm of this rewording tool stands it apart from the other utilities and helps you to generate high-quality content.
To Save Your Resources
Content writing is not an easy task, as it demands the investment of several resources from the writer's end. As a writer, you'll need to invest time and effort in generating high-quality content. And if you're not a writer, you'll also have to spend money on acquiring writing services from freelancers.
The paraphrasing tool can help you out in saving your resources. This rephrase online utility is a free-of-cost service that generates results for all users in a matter of instances. In addition, no hard and fast rules need to be followed for using the paraphrase online tool.
Article Spinner (Paraphrasing tool), A Luxury
Article rewriting deals with taking in information and expressing it in a new way. And that requires a comprehensive vocabulary, research, time and hard work.
Rewriting content may take hours if done manually. Working hard certainly pays off but it costs a hefty amount of time, and the production of content becomes lesser. For example, if you are using a paraphrasing tool to rewrite essay or an article, first you have to read that content thoroughly. Then find the suitable words to replace the original content while keeping the integrity of the topic. For that, you will have to possess a well-established vocabulary and a large amount of free time at your hand. So, the people who are incredibly loose may indulge in this activity, but those who have limited resources at their hands may find rewriting a burdensome job.
Who Can Use the Paraphrasing Tool?
The usage of our rephraser isn't limited to a specific niche or group of people. The top users of the paraphrase tool include the following:
Students
Students often face problems regarding paraphrasing. The students are asked to prepare assignments, write essays, and make presentations. They work really hard but are unable to deliver the true essence of the topic. They also grind for thesis writing to avoid plagiarism. Duplichecker provides a paraphrasing tool online free, by using this paraphrase tool the students can rephrase sentence easily and complete their required tasks without making much effort.
Teachers
The teachers have to prepare notes and reports regularly for providing helpful materials to their students. The life of teachers is too hectic, as they have to deal with several tasks in a single time and preparation of helping material becomes quite hectic.
From checking tests to preparing quizzes, every task consumes an ample amount of time. Our online paraphrasing tool is a life saver for teachers, as they can easily browse the notes from the web and generate a new version of them for their students. This paraphraser tool will be beneficial for teachers, as their integrity won't be questioned for providing plagiarized materials to students.
Marketers
Marketers are always in need of textual content for creating marketing materials, social media posts, emails, etc. Not all marketers are good writers; hence, they can rely on a professional paraphrasing tool to meet their content needs without seeking professional assistance. If your marketing budget is not enough and you cannot afford to acquire the services of an article writer, then you can use the free rewriting tool and paraphrase the already available text without paying a penny.
Bloggers
Bloggers have to choose very carefully what they write because of the immense competition on the internet. So, they have to spend hours on research to improve the quality of content and avoid plagiarism.
Every blogger needs to create blogs in abundance on a regular basis. While working in a specific niche, the bloggers have to write on various topics again and again. Both situations can easily be tackled with the assistance of the best paraphrasing tool. By using this word spinner a blogger can spin article instantly.
Writing on a single topic repeatedly can become a major cause behind self-plagiarism. However, the paraphrase tool can get your hands on fresh and unique content without leaving any duplication. Moreover, you can also meet the demand of creating multiple blogs in a short time with an article rewriter online tool by your side. Avoid Plagiarism by Quoting and Paraphrasing.
Webmasters
Webmasters are responsible for keeping websites up to the standards set by search engines like Google to maintain their organic rankings. Plagiarism can become a major reason behind the downfall of the sites you are looking after. Therefore, you can use the paraphrasing tool as soon as you come across any plagiarized content on your website.
Once you have detected plagiarized phrases on your website, you can use the paraphraser and replace the copied text with unique content immediately to save yourself from the harmful effects of plagiarism.
| | |
| --- | --- |
| 🚀 Rapid Paraphrase | Assignments , Thesis |
| 🚫 Remove Plagiarism | 100 % |
| 🗺️ Languages | Multiple (Globally) |
| 🤑 Price | 100% Free |
| 🖋 Modes | Advance AI Mode |
| ✍️ Improves | Style & vocabulary |
| 📖 Maintain | Readability & fluency |
Avoid Plagiarism Using Rewording Tool
Paraphrasing is an easy method to eliminate plagiarism from any kind of content. However, the manual method to paraphrase a text demands an extensive amount of effort from your end, and it can still leave some instances of plagiarism.
There's no need to worry or get into any sort of trouble for avoiding plagiarism, as you can easily access the online paraphrase tool. This rewrite article tool will completely eradicate plagiarism from your entered content and present you with a new version of an already published article instantaneously. The rephraser is available on DupliChecker for free. Its user-friendly interface allows you to quickly rewrite paragraph and make them plagiarism-free without any hassle.
DupliChecker's Article Rewriter Is Here to Save the Day
Finding a perfect text rewrite tool is very difficult these days. So, if you are looking for a text spinner, give our tool a try and feel the difference. An online rewriter tool is a perfect place for you to paraphrase the articles. Time and quality of the content are the most crucial factors of any person working on content writing.
The fact that our text spinner is preferred by students and teachers equally is because of the production of quality content. This really helps students in their assignments and thesis. It also allows teachers to the preparation of material for students to learn. Bloggers can check their content on our site to keep it away from plagiarism and any grammatical errors. Using our free tools has really helped many SEO writers to keep their business running while keeping the traffic on their websites.
Our motive is to provide these services effectively and efficiently without exploiting people.
Article spinner, A Dynamic Tool for SEO
There are a number of article spinning tools available online most of them are very slow at processing. Some offer a free trial for two to three days but after that, you have to purchase them which are very costly. So, if you are a student or new in the SEO business, this might not be a viable option for you. We always consider the needs of those who cannot afford it.
You will be glad to know that our article rewriter is not only efficient and fast but also completely free. We also have an additional grammar checking option which is also entirely free of cost. All you need to do is bring your content to our site and let the content Rewriter rewrite the article while you relax and get the output instantly. There is also another huge factor that exceeds the results of our rewriter, it's the use of advanced Artificial Intelligence. We have the best content spinner which includes AI and servers that can process huge content and several articles at a single time.
On top of that, we have a vast library of words and their synonyms helping you out. Pair that with our Spell Check and Grammar Check options and Voila! you will have the ultimate solution to your writing problems. This will save you not only time but also a lot of money that you otherwise would have been paying on other sites.
DupliChecker.com A Complete Package
As I mentioned earlier our tool is absolutely free of cost. It is a complete package of Article Rewriter (paraphrasing tool), Spell Check, Plagiarism Checker, and Grammar check tools. Other sites of the same category will have you pay for their services even for simple tasks such as spell-checking. We want you to have the best experience while using our website because we understand what you need. So, you don't even need to sign-up to use any of our free tools. So, just roam around our site and put our tools to their best use.
FAQs
How Many Articles Can I Paraphrase with this Tool for Free?
You can paraphrase as many articles as you desire by using this paraphrasing tool free. You won't face any kind of restriction on the usage of this word changer. Paraphraser works with less than 2000 words. To rephrase more words, you may need to split the file into less than 2000 words each file.
Do I Need to Get Registered for Using this Tool?
No! Registration isn't a requirement for using the paraphrase online tool. You can paraphrase as many articles as you require without signing up or getting registered.
Will My Content Be Secure After Rephrasing?
Yes! Your content will be in safe hands if you choose to rephrase it with DupliChecker's paraphrase tool. The databases of this tool don't hold your rephrased or original text, as your entered content vanishes once the paraphrasing process is completed by its advanced algorithms.
Does the Paraphrased Text Generate Through this Tool Contains Grammar Errors?
No! Our paraphraser makes sure to generate content free from all kinds of grammatical and spelling errors. In case you wish to confirm or proofread your document again, you can use the grammar check tool on DupliChecker.