Website SEO Checkers
SEO checker analyzes the website and gives you a detailed SEO report to optimize the site for search engines. Simply enter the URL into the given field and click the "Check SEO Score" button.

The functionality of our website SEO checker is quite simple so that users don't have to follow complicated procedures for using this utility. You can check the SEO score of your site by following the steps given below.
Step 1: Enter the site's URL for which you check the SEO score in the given box.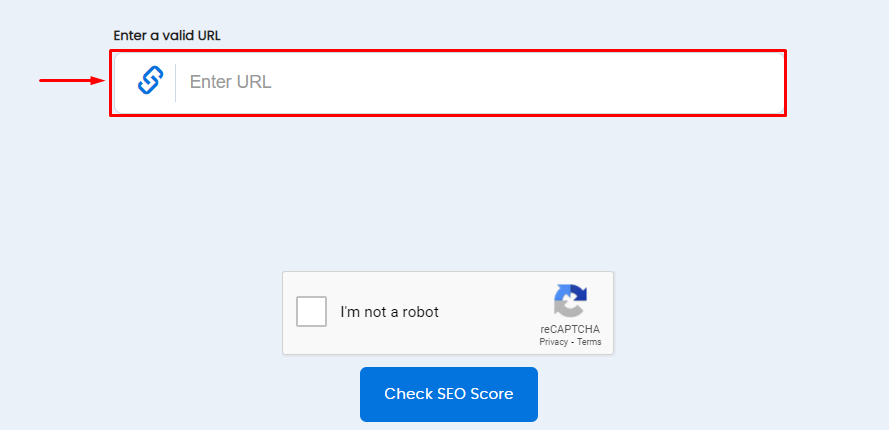 Step 2: Click the "Check SEO Score" button.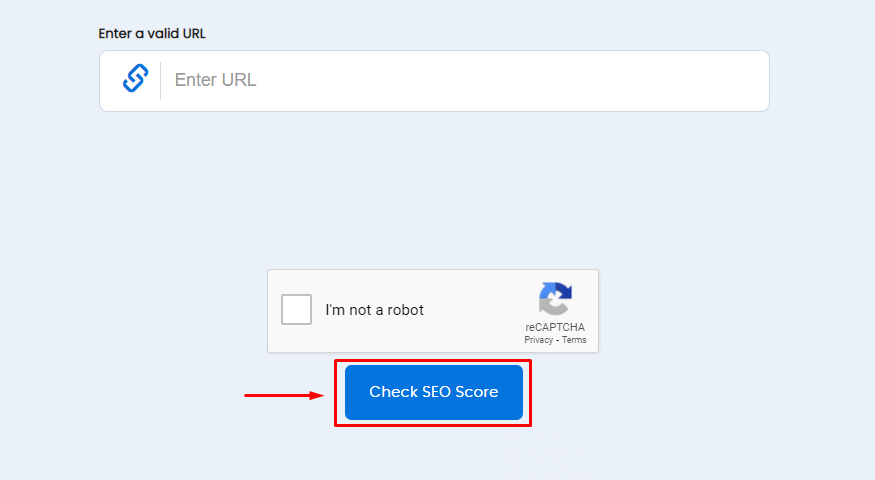 Step 3: The utility will conduct SEO analysis of the requested URL and display results in a matter of seconds.
SEO stands for search engine optimization, a process to improve the site's organic traffic by getting high positions on search engine result pages (SERPs). While it may seem like child's play, the reality of SEO is quite complex. If you don't optimize your site properly, you won't be able to compete in this competitive web world. To figure out where your website stands in terms of SEO, you need to analyze multiple factors.
SEO involves several aspects, including incoming links, keywords, content, meta tags, functionality, and many others. However, the website SEO score checker is here to assist you to analyze your site's SEO score and figuring out where it stands compared to the competitors.
The website SEO checker doesn't restrict users to go through manual procedures as its advanced algorithm generates authentic results within no time. You can use this utility to conduct a website audit and analyze its performance against various parameters. Our free SEO checker analyzes the following factors:
Backlinks
Backlinks work as trust signals and play an integral part in uplifting the website's SEO. The SEO analyzer provides an in-depth backlinks summary along with unique domains and unique IP addresses details for the entered URL.
MOZ Authority
The MOZ authority of a site determines its performance on search engine result pages. In addition to providing a website SEO score, our free SEO checker also provides the Moz DA and PA scores.
Meta Tags
Without meta tags, search engines won't recognize what your site contains. The SEO checker analyzes the meta tags of the requested website and provides detail regarding missing or incorrect meta tags.
On-Page Links
The on-page links (internal and external) play an integral role in improving website SEO. If your site contains dead internal or external links, it can hurt the SEO and decline rankings. SEO checker tool provides an SEO analysis report that helps you fix the link issues to improve the performance of your website.
Page Speed
How long does it take for your website to get loaded when a user accesses it? A page that takes too long to load has a higher bounce rate. Therefore, you should audit your website and see if its page speed is adequate or requires improvement.
The free website SEO checker available on duplichecker.com comes with exceptional features which include the following:
Compatibility
You don't need to get your hands on a specific device or operating system, as this free SEO checker is compatible with all devices. Whether you're using a smartphone, laptop, Mac, or desktop, you won't face any restriction in accessing and using the utility.
In-depth SEO Analysis
This online SEO checker analyzes the website and presents extensive data, including backlinks summary, MOZ authority, meta tags, word count, URL analysis, domain age, and many more.
No Registration Required
The users don't need to get registered for using the SEO analyzer. It is a free online utility that can be used from any corner of the globe. The utility also generates accurate results and displays them on users' screens in a matter of seconds.
The SEO checker can also be used by many digital experts, which include:
Agencies
Many website owners outsource SEO-related tasks to digital agencies. These agencies can use the online SEO score checker to figure out the issues resulting in low seo scores and rankings.
Marketers
As a marketer, It's essential to leverage SEO data and form the best content marketing strategy. Our SEO analyzer provides extensive data based on different SEO factors all in one place. Marketers can use this data to figure out the improvements needed in their marketing strategy.
Bloggers
The bloggers mostly work as solo individuals, and they don't have enough capital to hire an SEO team. Instead of relying on anyone else, bloggers can utilize the free website SEO checker online and figure out the issues in their blogs instantly.
SEO Experts
SEO experts are in need of seo audit tools that help them conduct website analysis without investing time and effort. An online SEO checker is of great benefit for SEO experts, as they can easily find where their website stands and what factors need to be improved for getting better rankings on SERPs.
SEO Beginners
The SEO beginners who have just stepped into this field might find it challenging to analyze different factors individually. Using a website SEO score checker, they can get a complete SEO audit report for any website, rather than struggling with evaluating versatile SEO factors.
Google algorithms keep changing from time to time, making it quite difficult for SEO experts to stay up to date with the latest developments. However, this process is complex, but it is essential to implement white hat SEO tactics to improve the website's performance and get good rankings and traffic. The key factors that help you improve your website SEO involve the following:
Optimized Content
The optimized content will play a crucial role in improving the SEO score of your website. While optimizing your content, make sure to use keywords that searchers can use to reach your website. Google's search algorithms heavily rely on these terms and phrases when ranking the web pages on the search engine result pages. Including keywords in your content doesn't mean stuffing them, as you also need to ensure readability and engagement for satisfying the audience.
Mobile Friendliness
Another major SEO factor is mobile-friendliness, which is vital in enhancing your site's SEO score and rankings on search engine result pages. In the past few years, stats show that people use mobile devices more to access websites than desktops. Therefore, Google pays prior attention to sites' performance on smartphones. The mobile-friendly sites get an edge in rankings over the sites that don't work properly on mobile devices. It is essential to make your website mobile-friendly for a better user experience.
Social Signals
Social signals play a vital role in improving your site's rankings on search results indirectly. If your site's content is being shared on social platforms, it means that people find it valuable. By sharing content on social media platforms, you can get natural backlinks to your website.