Home » 7 Free Tools to Manage Your Website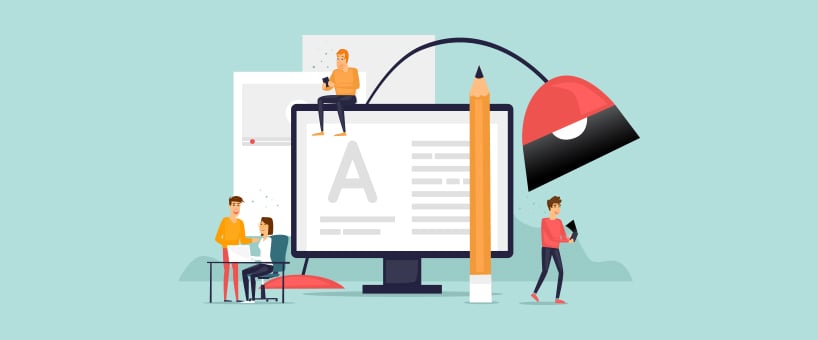 December 11, 2019
These 7 Free Tools Will Completely Change How You Manage Your Website
As a website owner, one of the activities you would find yourself involved with a lot are those geared towards the management of your website. This is important for presenting new information, products and services to the public, attracting and retaining customers, maintaining search engine rankings, and generally keeping your site secure and up-to-date.
But it is one thing to manage your website and it is another thing to manage it effectively and efficiently. You'd rather choose the latter, right? Well then, you simply need the right website management tools.
That's what Duplichecker.com does for you — providing you with multiple super-helpful digital tools. In fact, we have a bunch of useful tools here on SST that you can use to manage several aspects of your website.
In this post, we show you — not one or two — but seven of such tools. These website maintenance tools are 100% free and can help you perform such functions as checking your site's SEO rating, scanning for viruses, checking your site's server status, tracking website visit counts, and a lot more. Here they are:
ONLINE PING WEBSITE TOOL
Have you ever feared that search engines might not have picked up ALL your content, backlinks, and web pages? Well, it sometimes happens… especially if your website is new.
What should you do in that case? Simply ping your website to the search engines!
The Online Ping Website Tool by Duplichecker.com is a ping utility free online tool that helps you verify if a domain or server is operating and network-accessible. The tool allows you to update search engines about your blog updates, new backlinks, web pages, and other apposite elements you want to be indexed. This helps you see that they are all up and connected.
This not only makes your website visible on the internet but ensures that all your site elements are properly and correctly indexed and displayed. But not just that; the tool lets you ping multiTple elements in one go, not only to search engines but to any web server you want.
Start Using Website Ping Tool »»
SEARCH SPIDER SIMULATOR
Still, on the subject of pinging your website to search engines, how do you know in the first place if your site is correctly indexed by search engines?Well, apart from the Website Ping Tool, we also have a web spider simulation tool. It is actually the best way to know how well your site has been picked up by the search engines.
The Search Spider Simulator by Duplichecker.com works the same way search engine spiders work. It crawls and displays a compressed version of your site so you can see things the way search engines see them.
It shows you everything including the meta tags, keyword usage, HTML source code, the incoming and outbound links of your web pages, and more.
If you feel that something is wrong with the simulation, like several links missing from the results, then it could mean that those elements are not visible to the search engine spiders. This is where you can use the ping utility tool to check your site.
Start Using Search Crawler Simulator »»
WEBSITE PAGE SIZE CHECKER
Web page size is an important factor in building a successful online presence. The bigger the size of a web page, the longer it'll take to download the required resources to display.
Precisely, the size of a web page can determine how users and search engines treat your website. For one, if your web page size is small, your website will load quickly for visitors. If it is huge, it'll load slowly and that could lead to users abandoning your site. In the same vein, the page size is crucial for the ranking of your website. Larger web pages will load slowly which means Google will overlook those pages when ranking… because Google wants to serve its users with the best possible user experience and speed is one key factor in this. Thus, it is important to regularly check the size of your web pages to find the ones that are too large so you can optimize them.
Website Page Size Checker by Duplichecker.com can be used to know the page size of any specific URL. It tells you about the page size in bytes and KBS. But this tool not only shows you the size of individual pages on your website, but it also shows you the overall size of the website. This will help you to greatly reduce bounce rate as web users aren't always patient enough to wait for slow-loading pages.
Start Using Website Page Size Checker»
WEBSITE SEO SCORE CHECKER
Search Engine Optimization (SEO) is important for every business-oriented website. Why? Because SEO is one of the best ways to drive relevant traffic to your website. When you realize the immense power of SEO, it not only becomes necessary to optimize your site to rank but also to regularly check the SEO score of your website.
What is the SEO score? SEO Score is a measure of how well your website is doing in search engine rankings. It is a score that tells your site's strengths and weaknesses in ranking for relevant keywords and driving organic traffic. The SEO score is often determined by factors such as a site's technical SEO, content, user experience, mobile-friendliness, keyword optimization, on-page optimization, off-page optimization, and so on.
By knowing your site's SEO score, you'll be equipped with the right information per the areas to focus your search engine optimization efforts on for improved rankings. Website SEO Score Checker by Duplichecker.com is the best tool in this category online. Designed to deliver accurate, reliable results, you can use this tool to get your site's SEO report for free.
But much more than that, the tool goes beyond just checking website SEO scores to showing you a complete and detailed analysis of a website's SEO data and performance in several categories and use cases. Think of it as your go-to SEO data analyzer.
Start Using Website SEO Score Checker »»
WEBSITE VIRUS SCANNER
With hacking and cyber-attacks increasing by their numbers online, it becomes important that you not only install the right site security tools on your site BUT actually regularly scan your website to check for malware and viruses.
This becomes even more important if your website is hosted on an internet service provider's web hosting servers… particularly, on a shared server.
You never know which websites in your shared hosting servers are infected with viruses, and you don't know if there are enough anti-virus measures that have been installed by your web host provider to protect customers' web sites against malicious attacks.
Your only sure bet is to, from your end, continually scan your site for viruses so you can take the right step in case of any attack. This Website Virus Scanner by Duplichecker.com helps you do this very easily.
Start Using Website Virus Scanner »»
WEBSITE VISITOR HIT COUNTER
Are you one of those webmasters who usually get goosebumps about how many people visited their website the night before? It's usually an exciting feeling, you'd agree.

This Website Visitor Counter by Duplichecker.com allows you to monitor your website traffic. It is a web counter or hit counter that helps you track the number of visitors, or hits your website receives during a particular period of time. To use it, all you have to do is enter your website URL, and the tool will automatically generate a code for you which you can paste in your site.
You have the option to display it anywhere you like on your website, or you may choose to hide it if you don't want your visitors to see it. With this, you'll be able to see how popular your site is, as well as the popularity of particular pages on it. The information you get can help you make plans for future content, monitor any increase in visitors as a result of an advertising campaign, or even work out how successful a site redesign has been.
Start Using Web Hit Counter »»
WEBSITE SERVER STATUS CHECKER
For a website to run, it needs to be hosted on a server. While almost all web hosting service providers promise 99.9% uptime, that number may not always be achieved.
If you visited your site and found that it is not loading (or received complaints from your visitors of the same issue) how do you know if your website is down or if it's just some connection issues?
You need a server status checker. The Website Server Status Checker by Duplichecker.com leverages sophisticated technology to determine whether a website is online or offline.
Start Using Website Server Status Checker »»
FIND MORE TOOLS!
Like these tools? You can find more tools over at our main tools page.
We run several dozens of remarkable tools you can use for 100% free to perform different functions including rewriting your articles, checking plagiarism, downloading videos, generating backlinks, checking existing backlinks, testing page speed, performing keyword research, compressing image files, converting one file format to another, searching for images on the internet, and much more!