Home » Content Writing Tips » 10 Professional Writing Tips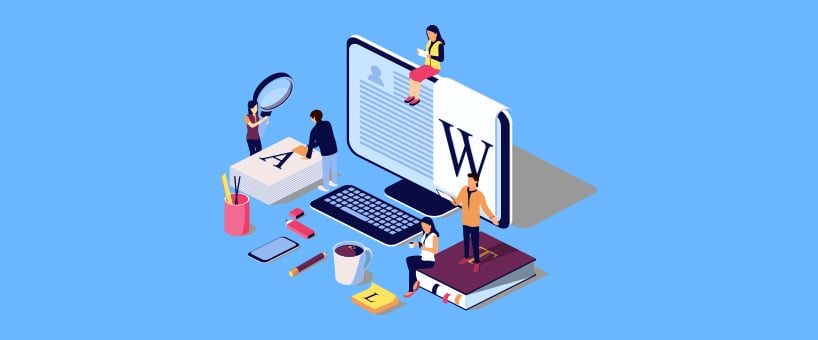 December 23, 2022
Writing content is not a simple task; it takes skills, effort, and time to become a professional writer who writes compelling content. You can just pick up a title and start typing whatever comes to your mind. Doing so will only make you end up with ineffective and vague content that would be useless to the audience. Hence, it is necessary to ensure that you use all the essential skills and best practices to create valuable content for the audience.
Whether you are writing legal documents, business copies, or blog posts, the content should be clear and meaningful. Otherwise, you can't expect the desired results from the content. This statement is especially true if you are assigned to write web content. The number of conversions made on a website is directly linked to the clarity of content. The audience these days won't be willing to make a purchase until they have all the necessary information regarding a product or service.
Taking up content writing as a profession needs you to describe information, tell a story, and convince people to do something. This is only possible when you use best practices in professional writing. In this post, we have put together a list of some professional writing tips to help people who just step into the field of content writing. Reading this blog will help them identify the problems with their writing style and rectify those issues to get ideal results. Read on to learn more.
1. Research, Research, and Research
There is no better way to emphasize the importance of research while writing content. You may have heard about the importance of researching while creating academic write-ups, but research becomes even more essential in professional writing. You should divide the entire writing process into three distinct phases, research, writing, and proofreading. While all these phases are important, research matters a lot when formulating a professional write-up.
Overlooking the research phase means you will end up mixing facts and figures, and people who get to read your writing will get the wrong idea. In professional writing, including wrong facts and figures means a significant crack to your career and the organization's reputation or website you represent. Therefore, make sure you allocate significant time to the research phase before you start writing.
2. Understand the Purpose of Writing
Before you start writing content for a blog or anything else, it is essential to make sure that you know the purpose of writing it. If you're finding it difficult to understand the purpose of your writing, consider asking yourself a few questions. These questions are, "what are you writing?" and "why do you need to write on this topic?" Finding answers to these questions will not only help you understand the purpose of writing but determine the audience of your content as well. 
Additionally, it will help you understand the goal you are trying to achieve with the content. Moreover, once you know the audience who will read your content, you can customize it for them. It is necessary to understand that not all readers are the same. Various audiences have different ideas about good content. Your job as a professional writer is to develop content that ticks all the boxes of good content according to your targeted audience. And, It's only possible when you know the purpose of writing content.
3. Include Essential Writing Elements
Needless to say, your content will only be impactful if it is created while keeping the best writing practices in mind. However, it is often observed that people just stepping into the field of professional writing are unaware of these practices. Therefore, to make people stick to your content until the very end, you need to ensure a few elements. Read on to learn more about these elements.
The first thing you need in your content is an engaging title that compels the audience to read it.
After the title, start your writing with a hook. It can be an interesting question or a fact.
Once you are done with an engaging title and a hook, it's time to create a flow in your content.
Use sub-headings and bullets.
Include clear CTAs (Calls-to-Action) to make it easier for the audience to understand your objective.
Keep your content concise; no need to add extra words when you can say it with fewer.
Shorter paragraphs will enhance the clarity of your content.
4. Stay Away from Overused Words and Sticky Sentences
Another thing you need to consider while writing content is staying away from overused words and sticky sentences. It is often observed that writers take the help of words that are not needed in the sentence to assert their narrative. For example, you must have seen writers using the word "really" when it is unnecessary. They just do it to create a strong impression.
You may see writers using words like very few or significantly less when they can use the word minimal to create a strong impression. Instead of using very thorough, the word comprehensive will create a better impression, and the list continues. Hence, being a professional writer, it is your job to bring clarity to your content, and using overused words will only create confusion. In addition to such words, you will see frequent use of sticky sentences that contain a higher percentage of gluey words, such as, of, for, to, that, and in. Using these words in a sentence above a certain limit not only makes the sentence sticky but also increases confusion. 
5. Justify the Jargon
We know every niche or workgroup has its own terminologies that are difficult for common people to understand. These terminologies are collectively termed jargon. There are different jargon for various fields. For instance, you will see legal jargon, medical jargon, military jargon, political jargon, digital marketing jargon, and even police jargon. Jargon includes a set of terminologies only known to the people working in a particular field. As a writer, you may become aware of this jargon while researching for your write-up. However, there is no way you can make use of jargon in your content without justifying it.
People who are related to a certain field may understand it. However, think about the audience that has nothing to do with that particular field but still needs to read the content. For instance, think of digital marketing; people who work on it may know about SEO (Search Engine Optimization), SMM (Social Media Marketing), or SEM (Search Engine Marketing). However, what about other people? How would they know the meaning of these acronyms or terminologies? Hence, the best way to avoid confusion is to explain terminologies in parenthesis placed next to the very word. You can also anchor the particular word that needs justification with a hyperlink to the definition for the ease of your audience.   
6. Get Rid of Redundancy
Nothing makes readers more frustrated than reading the same thing multiple times while going through writing. If you want to be a professional writer whose write-ups get appreciation from the audience and editors, then it is necessary to eliminate redundant sentences. The problem often occurs when you are assigned to write an article or blog of a certain length, and you use specific sentences in multiple places to reach the word count. However, the problem doesn't end here.
It is often observed that something gets too much in our mind that we keep on repeating it without sensing the repetition. As a result, you may end up saying a similar thing in different words in a single write-up multiple times. Therefore, it is necessary to get rid of redundancy in your content. The best way to do it is by reviewing the content you have just written after finishing a section. This practice will help you keep redundancy in control and eliminate it when necessary.
7. Keep Your Tone Confident
Another thing you should work on is your tone while writing content. The audience that comes to read your content is more interested in knowing facts instead of your opinion. So make sure you are sharing more facts and fewer opinions. Moreover, bring authority in your tone, so your audience can understand that the writer they are reading is credible and confident.
Showing authority in your tone will help your reader understand your content better. It will also help you achieve the goals you want from your content, such as your audience buying a product or believing in the information you have written. In addition to keeping your tone confident, it is also necessary for you to make it friendly. Doing so will help you make a trusted relationship with your readers, and they will think of reading more content written by you.
8. No Space for Plagiarism
It is essential to understand that plagiarism at any level is unjustifiable. It is not appreciated anywhere. You are in big trouble if your audience gets the slightest idea that you have stolen someone else's idea or words. They will not only leave your content midway but won't come again to consume any information from your website. Therefore, you need to ensure that your content is free of plagiarism, whether accidental or intentional. However, you don't need to manually compare your content with the sources you have used for research.
Technology offers you a simple and effective way of finding plagiarism patches in your content. You can use an advanced plagiarism checker to determine the uniqueness of your content. The tool will help you find the slightest duplication in your content. Additionally, it shows a percentage of plagiarism for each piece of content, which helps you determine its uniqueness. 
9. Proofread Your Content Properly
After the process of writing content comes the most important phase, which is proofreading. However, it is often observed that some writers are so confident that they don't need to proofread their written content. A few grammar, spelling, or punctuation mistakes can change the entire meaning of a sentence. Similarly, a vague sentence in your content will create confusion.
If you want to avoid the inclusion of any mistakes in your content, then proofreading it is absolutely necessary. This way you will also identify the flaws in terms of sentence structure, redundancy, and even duplication in your content. Otherwise, the content will get published, and you may see your reputation as a writer getting hurt because of the problems with your content. So, deeply review your content to identify the problems and resolve them before publishing it.
10. Paraphrase Where Needed
After proofreading the content, you will figure out many issues in it. These issues can be related to grammar mistakes and even plagiarism. As a result, you may feel the need to rewrite certain sections of your content to get rid of these issues and make your content impeccable. However, it is often observed that rewriting content, especially when the time to publish it, is an uphill task.
You will likely make mistakes while rewriting content manually, which will worsen the situation. Therefore, the best way to deal with such a situation is to use an advanced AI-based paraphrasing tool. The tool will scan the content first to understand its meaning and then use its extensive synonym library to replace words with meaningful synonyms.