Home » Content Writing Tips » How to Write an Epic Blog Post That Engages Readers?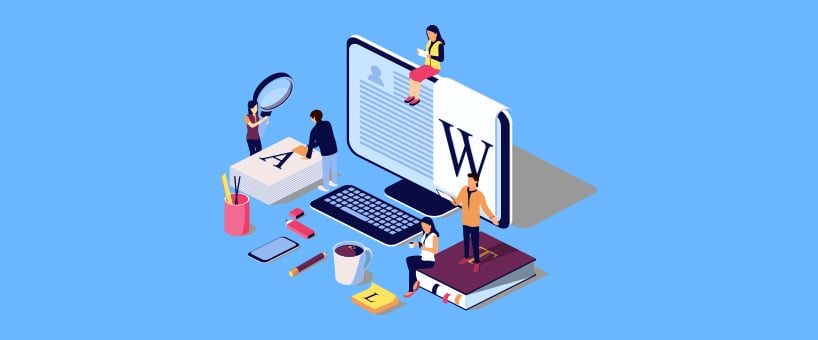 March 10, 2023
Writing engaging and valuable content is surely a herculean task. The days have passed when you could satisfy your readers with ordinary content. The massive competition in the online world and the invention of modern facilities have made it essential for every blogger to provide something unique and inspiring that can engage their readers.
However, crafting appealing content is a challenging and laborious task. It's not like someone gets up in the morning and starts typing. Extensive research and firm knowledge of grammatical rules are essential to generate quality text that can attract the targeted audience. 
Struggling to write an engaging blog post? Don't fret, as you are not alone. Due to the vast number of websites on the internet and the huge number of clickbait posts with information, users cannot measure the quality of content as easily as they used to. It has been found through research that online users generally take a few seconds to decide if a site's content is relevant to them or not.
Fortunately, some ways can help you learn the appropriate techniques for writing quality blog posts. Certainly, the internet is flooded with content, but only a few sites provide useful and engaging content for users. If you are also looking for suggestions to generate epic blog posts that can impress your audience, this post is mainly for you.
In this blog post, we will share methods to help you write an engaging blog post from start to end. So, keep reading this blog post until the end to learn the best practices.
Tips to Write an Incredible Blogpost that Engages Readers
Writing a unique and epic blog isn't as easy as many people believe. You need to spend a vast amount of time, and a must have a firm knowledge of the topic to create an inspiring post.
Below are a few suggestions that will help writers ensure the quality of their writing and make it appealing to the readers.
1. Define Your Audience
The primary reason for crafting a blog post is to grab as much quality traffic on your site as possible. The content that is written according to the needs of the targeted audience usually succeeds. Engaging blogs are the one that gives readers a sense that the writer is directly communicating with them.
Here, the important question arises: how can an author create this effect? To engage readers, you need to focus on what they want from you and address their pain points personally.
The ability of writers to create content that sounds relevant to their readers mainly depends on how effectively they understand their audience's nature. Learning the interests of your targeted audience is vital to get familiar with the type of information they are looking for.
Try to address their queries in your content in an effective manner. For example, adding use cases or examples in your blog post is highly advantageous to gain readers' attention.
2. Choose Your Topic Wisely
Selecting the topic for the blog is one of the most crucial aspects. You need to pay vital attention while choosing the topic for your blog post. Writers who choose and write blogs according to their readers' needs usually earn their appreciation.
Therefore, it is essential to do in-depth research to choose the best topic for the post. Analyzing your competitors' selection helps you find the most relevant and trending topics in accordance with your industry.
3. Curate an Attractive Headline
Your blog headline is the first thing that will strike the readers. That's why it is inevitable for you to craft headlines that hook readers. The primary reason to write a headline is to make people visit the page, not to give an overview of the blog post.
Now, the question that might pop up in your mind is: how can we write an engaging headline?
While creating headlines, always use action words at the start to grab your readers' attention. The words like Grow, Transform, Uplift, and Generate are self-oriented that can convince people to visit your blog post. Keep your headlines concise and clear to boost your readership. So, it is essential to create a splendid headline before writing and publishing your blog post.
4. Captivate Your Readers with a Striking First Paragraph
Many of you might have heard, "First impression is the last impression." This statement is completely true when it comes to reading. The average time span for evaluating the quality and relevance of content is almost 8 seconds. This clearly defines the significance of the first few lines in grabbing readers' attention.
The best way to hook your readers is to craft opening sentences that evoke excitement and make them crave to read more. You might have experienced that the first few lines of some blogs are so compelling that they force you to read the entire content.
Adding striking questions or providing a solution to a problem keep readers connected with your blog. Similarly, adding research findings or statistics enthral your readers and uplifts the content's appearance. This will make people strive to know more and force them to continue reading until the end. Using powerful and engaging vocabulary is also crucial to leave people with no choice except to keep reading.
5. Maintain Simplicity and Clarity ‍
As a professional content writer, you need to understand that your audience may have different attention spans. To entertain each reader, you must keep your blogs short and precise. However, it never meant that writers shouldn't explain any idea comprehensively. So, make a word selection that provides your readers the ease of understanding the core meaning of your content effectively.
Similarly, the length of the blog can vary as per the topic. There is no hard and fast rule for maintaining the word length of any blog post. However, the length of the paragraph should not be extremely large. It is suggested by professionals to keep paragraphs short and concise to enhance clarity.
On the other hand, people don't prefer reading lengthy paragraphs. Therefore, if you want to explain a topic, try to break it into smaller paragraphs to avoid congestion. Moreover, using simple and easy-to-understand vocabulary is also essential to enhance the content readability.
6. Make Sure Your Text is Unique
The easy access to online platforms has allowed everyone to detect any piracy in content. There are advanced facilities that can let people know if the text contains traces of plagiarism. One thing that every writer must understand is that there is no room for duplication in blog writing.
Plagiarism is always measured as a breach of ethical writing norms, and people don't like reading the writers who commit this awful act.
Moreover, the sites providing plagiarized blogs usually face penalties from Google. Therefore, it is inevitable for bloggers to ensure content uniqueness before publishing it on the web. The use of an online plagiarism checker is highly beneficial in this regard. The facility detects any kind of plagiarism in the text and provides resources to eliminate instances of duplication from your content.
7. Check Your Text For Grammatical Errors
Have you ever read an article containing grammar mistakes? What was your reaction? It would have raised questions about the credibility and skills of the writer in your mind. Grammatical errors in a text can damage the reputation of a writer. It also affects people's readability and makes them annoyed. As a result, people don't find such writers credible sources and prefer reading other possible options.
So, if you want to make your blog post engaging for the readers, ensure it's free of all sorts of grammar mistakes. An online grammar check utility helps you to find all the grammatical and structural mistakes in your text swiftly. This facility saves you from making manual efforts and highlights all grammar errors in your content instantly.
8. Add Visuals
High-quality visuals are immensely useful to make your blog more inviting and striking. Adding relevant images, graphs, charts, and videos to your blog will enhance its attraction. Also, it will help you incorporate interests and variety into your posts to explain your ideas effectively. However, the important thing that must be ensured is the relevance of visuals with the ongoing blogs. Else, it will distract your readers from the sole idea you are trying to convey.
Bottom Line:
In the last analysis, writing blog posts isn't child's play. You must have a clear idea about the topic you want to write about. Also, having extensive knowledge is essential to provide readers with something engaging and inspiring. The information shared above will help you write a great and attractive blog post. We hope you can craft epic blog posts that your readers will appreciate.