Home » 4 Essential Ingredients of a Great Content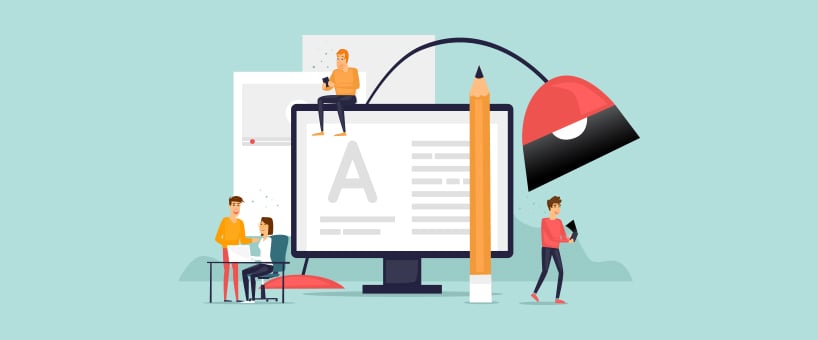 April 14, 2020
Writing great content is a choice for every writer. You can choose to use your time and effort in doing adequate research and writing an appealing content, or you can select the conventional path and write the common material that will take you nowhere.
We all know that unique content is essential for the success of a website. Search Engine Optimization entirely revolves around the uniqueness and quality of the material. Even, it has been made clear from Search Engines like Google that the sites having unique and good quality content will get a higher rank in the Search Engine Result Pages (SERP). However, the sites that are having duplication in the material can also get penalized by the search engines.
So, let's face it:
If you want to achieve a higher rank in the SERP or want a boost in your organic traffic, then it's inevitable for you to have high-quality content on your site. 
But, what is the definition of great content? What are the essential components of making great and appealing content?
These are the questions that might be coming into your mind after reading the information above. Let's look at some of the main ingredients that can make your content great and attractive.
Uniqueness
As mentioned above, the unique content goes a long way with Google and your readers. The exclusiveness of information is the most vital and significant necessity for staying in the race. If the information on your site is plagiarized or pirated, then you may have to face severe circumstances. Your website may be thrown at the bottom of the SERP, and you never want this, I am sure. So, you must give appropriate attention while uploading any content on your website. 
However, originality doesn't mean the uniqueness of your words or writing style. Your ideas or thoughts should be unique, as well. It shouldn't be that you are writing about the same conventional topics again and again by changing the expressions. If you are rehashing the content again, then the purpose of your writing will be played out, and it will defeat the purpose of writing an article. Hence, it is crucial to write about unique and appealing topics to grab the attention of people as well as Search Engines.
Segmentation
Just like any other way of marketing, you must keep in mind while content marketing that your readers may also consist of a diverse group of people. Therefore, you must segment your readers and deliver your message, information, or product in such a way that you can engage all of them effectively.
A good writer always strives to write content that can grab the attention of each segment of his readers. If a single group of people couldn't connect with your content appropriately, then you'll miss the opportunity to convey your brand or message adequately.
Communicative
Great content is one of the best sources to communicate with your readers. The writers can express their emotions or ideas through his writing. So, your article must look like a conversation, as it must have interesting questions answers, facts, and, most importantly, the language that can be understandable for the reader's personality. The primary purpose of writing is to convey your idea to your readers, so it shouldn't look like a formal report. 
The headings and subheadings should be attractive that can grab the attention of people. So, your readers must not feel bored at any point. The addition of images and real-time examples can also play a significant role in keeping your reader connected to your content.
Short and Precise
The best approach to make your content appealing is to eliminate the fluff from it. The concentration span of readers is concise, especially while reading some information over the internet. That's why it is significant to insert only the relative and accurate information in your content. People don't like to read non-productive or unnecessary information in the content and may refuse to read the writer in the future if they found useless information in anyone's content.
The length of the content must be according to the topic. The concise doesn't mean that you cut off on important information that must be included. Similarly, a good writer never tries to increase the word count of the article unnecessarily. Good content must be precise and written based on quality, not on quantity.
To Sum Up
Writing is not an easy job, but you can make it enjoyable if you are passionate about it. The best thing about great content is that it never gets old. You can write high-quality content right now, and from five years from now, it will still grab the attention of people and increase the traffic on your website.