Home » Content Writing Tips » Is Article Rewriting Effective to Improve Content Writing?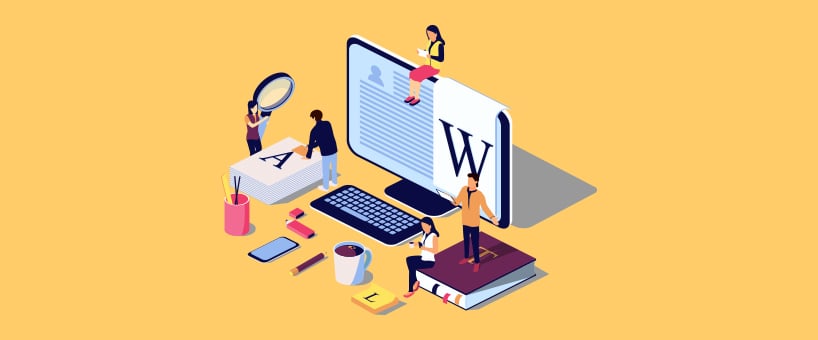 December 26, 2022
Creating quality content is a laborious job. It requires an extensive amount of research and time to create content that can inspire readers. The massive increase in internet users has increased the demand for valuable and engaging content. Quality content is a well-crafted piece of information that attracts people and turns them into loyal visitors to a website.
Therefore, it must be the top priority of a website owner or blogger to improve the content quality to inspire a broad audience. But, unfortunately, the majority of them don't give content due attention. For example, if a website owner or a business leader is faced with a choice between writing an article or communicating with a client, the probability of choosing writing would be nearly zero.
Writing informative content is undoubtedly a challenging and time-consuming task. You need several hours to collect accurate and authentic information. It often becomes impossible for people to spend ample time writing a text if they have another pending task. Furthermore, excellent writing skills and a firm grip on grammar are other prerequisites of content writing. A person lacking in these aspects often fails to generate quality content.
However, article rewriting is a great approach that helps you in this regard. It not only helps you generate quality content in a limited time but also lets you polish your writing skills.
In this blog post, we will discuss how article rewriting helps improve content writing. So, read this blog post till the end to get an idea of article rewriting and its benefits.  
What is Article Rewriting?
Restating a published or unpublished text in your own words without affecting the actual meaning of the content is known as article rewriting, aka paraphrasing. This is an effective type of writing technique that allows beginners to create good-quality content in a short time. In this method, you don't need to explore various online platforms or libraries to collect relevant information about the topic. Instead, simply rephrase well-written content in your words while content while keeping the actual meaning. In addition, if you find it difficult to create fresh content regularly, rewriting articles can be a viable alternative.
The following information will let you understand the significance of article rewriting to polish your content writing skills.  
How Article Rewriting Improves Content Writing Skills?   
Writing from scratch is always tedious, especially when you are asked to craft content on an extremely technical topic. Rephrasing already published or unpublished content is a better approach that allows you to accomplish your assigned task more effectively.
The other prominent benefits of article rewriting are as follows: 
● It helps You Learn Different Writing Styles
Once you find well-written and relevant content to rewrite, a deep analysis of the content is mandatory to learn the basic idea of the article. Rewriting requires utmost attention, as any negligence could lead to detours. The study of content written by others will surely help you in getting familiar with different ways to explain an idea. Similarly, you may find the appropriate way of defining a complex concept to a broad audience in the most straightforward manner. It will improve your writing skills and prove valuable when dealing with ambiguous topics.
● Enhances Your Vocabulary
Using engaging words in the article helps you catch your reader's attention. Using appropriate vocabulary in your text will allow you to convey information adequately.  You will also learn how to use those words in a sentence effectively.  
● Allows You Present Idea Effectively
Article rewriting certainly involves recycling already published content to turn it into a fresh piece of text. But this approach also assists you in including only the relevant and essential data in your article and discarding unnecessary or irrelevant information from the content. It will surely make things easier and straightforward for your readers. 
Use an Online Article Rewriter to Speed Up Rephrasing 
Traditionally; article rewriting requires extensive time and effort. A deep study of the content is required to understand its meaning. Also, a firm grip on grammar and good word selection are essential to make the text fresh and engaging. However, an online paraphraser saves you from all such prerequisites and provides you with the fastest way to rewrite an article effectively. You only require uploading a text on utility and it will automatically rewrite the text and provide you with a fresh and unique article in a matter of seconds. 
The other prominent benefits of using the article rewriter tool are shared below. 
● Enables You to Avoid Writer's Block
As a professional writer, you may get stuck in writer's block, which can make things harder for you, especially completing the article in a given time. By using a paraphrasing tool, you only need to come up with the content and rephrase or rewrite it without typing a single word. 
● Generates Plagiarism-Free Content
Removing traces of plagiarism from the content is a strenuous task. You may have to rewrite the entire text yourself to eliminate the instances of duplication. However, a rewriter tool allows you to generate duplication-free content with only a few clicks on your device. 
● Allows You to Create Content in Bulk
One of the biggest advantages of using an article rewriter is that, it enables you to generate good content in bulk. In addition, you can increase your content production up to 10x with the help of a rephrase tool.  
Bottom Line:
In the last analysis, article rewriting helps you in improving your writing skills and generating quality content in a limited time. The main purpose of writing this post is to help you gained a better understanding of the benefits of article rewriting when it comes to improving content writing. This technique will help you generate unique content instantly without making any manual effort.