Home » Essay Writing » How to Write an Essay: The Ultimate Guide to Essay Writing [Updated 2023]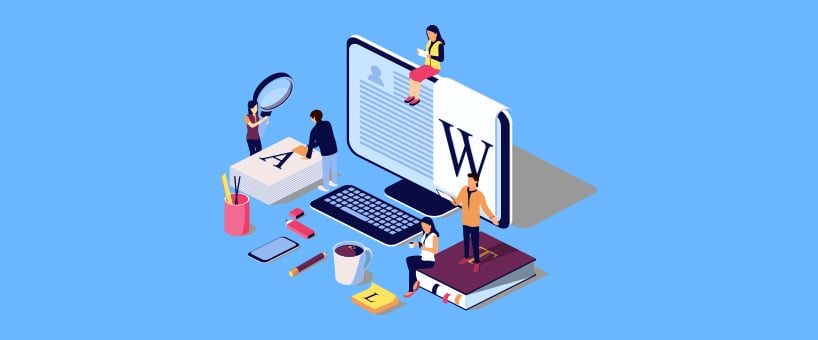 May 24, 2023
Writing essays is a crucial part of a student's academic journey, as this academic task contains considerable weightage in the overall grade of a course. No matter what course you have taken or which institute you're studying in, essay writing is a compulsory assignment that needs to be tackled throughout college life.
At first, writing an essay seems like a tedious task. But as the students reach their senior year, they become proficient enough to write essays even with closed eyes.
Understandably, practice brings precision, but while just starting, you need to take the assistance of the right resources to achieve the results you're aiming for. That's why we are here to guide you about essay writing to help you succeed.
What is an Essay?
An essay is a short composition that centres on a specific topic. In essay writing, the writers must express information on a particular topic and express their opinions. An essay requires research evidence to support the information and persuade the readers.
Importance of Essays in Academics
Writing an essay may seem useless, but it is an essential part of a student's academic life. Essays are considered essential due to the multiple benefits they have for the learners, which include the following:
Essay writing develops critical thinking ability in a student.
They allow learners to convey their understanding of a subject with the correct terminology and style.
By writing essays, the students enhance their research skills and professionalism.
Writing essays can help students improve their work ethic from the points above. So, let's dive further into this essay writing guide!
Types of Essays
Like any other type of writing, essays have different types. The most common types of essays are discussed below.
1. Argumentative Essay
An argumentative essay includes facts and evidence to persuade readers to agree with the writer's viewpoint. This essay type requires extensive research as it is based on researched data instead of one's opinions or thoughts.
2. Admissions Essay
An admission essay isn't a part of your academic assignments, but it is a written statement to enroll yourself in a college or university. In the admissions essay, the students need to write about their interest in attending a particular school and entice the faculty with their intellectual skills.
3. Analytical Essay
The analytical essay is written to present claims or arguments related to the things being analyzed. No matter what you're analyzing, you can review it in an analytical essay to evaluate the info gathered from multiple sources.
4. Compare and Contrast Essay
When you need to analyze two subjects that are opposite, a compare and contrast essay works best in that case. In this type of essay writing, you need to give equal attention to opposing things by comparing, contrasting, or both.
5. Expository Essay
The word "expository" refers to describing or explaining something. In an expository essay, the writers need to explain a topic thoroughly to enhance the reader's knowledge. This essay type is the same format as an argumentative essay; however, its non-bias nature makes it different.
6. Personal Essay
A personal essay elaborates on an essential lesson derived from a writer's life experiences. There is no decided form or structure required to write a personal essay; you can make your form while writing. On Laziness, by Christopher Morley, is an example of a personal essay.
7. Persuasive Essay
The persuasive essay is another type in which a writer needs to convince the readers to accept their point of view. This essay type is similar to an argumentative essay. However, the only thing you need to keep in mind when writing a persuasive essay is to use solid evidence to persuade your readers.
8. Political Essay
A political essay is similar to a theoretical analysis essay. This essay type is meant to deal with the issues related to government and politics. A political essay consists of historical stats and information through which students need to portray their ability to make arguments with logic.
Important Elements of an Essay Structure
The structure of an essay is consistent regardless of its type. Writing a good essay requires covering all important aspects.
Here are the elements of the essay structure you must cover while writing your essay.
1. Introduction
An introduction is an essential element of any statement that should be clearly explained. Your essay's introduction must convey to the readers what you are going to write about. If the introduction fails to make the audience aware of the topic, they may lose interest and might not prefer reading it further. So, it is important to consider the introduction as a make-or-break point, as this is the only paragraph that creates the first impression in your readers' minds.
2. Body Paragraphs
The body paragraphs are the next essential parts of your essay, as they consist of your arguments in support of the thesis and researched data as evidence. While writing an essay, you must keep in mind that the readers don't know anything about the topic, and you need to make them know everything through your essay.
Hence, it's essential to make your body paragraphs interlinked with one another. The vague or disorganized information will confuse the readers, so they might not be able to comprehend anything from your essay. That's the reason you need to structure the body paragraphs in such a way that allows them to understand your point efficiently.
3. Conclusion
The conclusion in an essay is the recap of the points and evidence you have discussed in the body paragraph. You may get interested in adding up new data in support of your thesis statement, but it's recommended to provide a summary of the evidence already given instead of opening a new chapter. In short, you need to wind things up to make the entire writing easily understandable for the readers.
The Essay Writing Process
While writing about anything, you cannot just jot down whatever comes to your mind. To make your essay stand out and achieve what you aim for, it's essential to follow an effective writing process. Normally, the essay writing process consists of 4 steps, which include the following.
1. Preparation
The first step in the essay writing process is to execute detailed research on the topic and create the outline. To prepare yourself to write an essay, you must start by brainstorming ideas relevant to the topic and include them in your essay.
Once you've gathered the ideas, you can:
Research the Topic: The research phase is crucial for writing a good essay. In this part, you need to collect data and evidence that can be utilized as supporting material in your essay.
Create an Outline: After completing the research, you need to create an outline for writing an essay. An outline is created to track all main points to include in an essay. By creating an outline, you'll save yourself from missing out on important points while writing and cover all of them in your essay.
2. Writing the First Draft
The real essay writing game begins in the next part of this process. While writing the first draft, it is important to set yourself free and let creativity flow out. If you focus on making no errors, you'll not be able to concentrate on the essay topic fully. Hence, you can leave the errors for rectification, as it's just your first draft.
3. Revision
Once you have completed writing the first draft, you can take a little break and then jump on to the revision stage of the essay writing process. In this stage, you can create multiple drafts of your essay until you're delighted that all the errors you made in the first draft have been resolved.
The first draft of your essay writing might also include the chances of plagiarism. Hence, in the revision phase, you must check plagiarism with a reliable plagiarism checker to identify and eliminate plagiarism before submitting your essay.
4. Proofreading
Proofreading is the last stage of the essay writing process before you submit or publish your work. In this phase, you need to look up typos, missing punctuation, and grammar mistakes in your essay. 
However, you can proofread your work yourself, which takes a lot of time. On the other hand, you can quickly check grammar errors in your writing using any reliable online grammar corrector. In this way, you can easily find and correct grammatical errors in your text compared to manual proofreading.
Tips for Writing an Essay
How well can you use your critical thinking to put your knowledge and research academic essay? You need to answer this question by writing exceptional essays throughout your college.
Here are some practical essay writing tips you can follow to match the expectations of educators.
1. Make Your Essay Easy to Read
The essay assignments given to students include specific guidelines for the writing style. By following those guidelines, you need to ensure that the main points are structured in the right places in your essay. The teachers don't thoroughly go through essays while grading them. Instead, they skim through the essays and provide better grades for the essays that are properly structured and easy to read.
2. Use Transition Words Between Paragraphs
The points discussed in your essay should be interlinked with one another. Hence, you must follow this tip of using transition words between paragraphs in your essay. Using transition words helps to create a seamless connection between paragraphs in your essay, ensuring that your readers stay engaged with your topic and never lose track. There are multiple transition words that you can use in writing essays, such as similarly, consequently, in the second place, and finally etc.
3. Include Examples
While writing essays, it's important to include examples to support your ideas. The examples allow you to convince the readers of your arguments. Including an example from a published source is more beneficial for your essay, as it will be considered more powerful and reliable evidence to rely on. It is essential to correctly cite the source when using someone else's examples. Whether you are using an example from a work of science, literature, history, etc., it should be cited in your essay.
4. Choose Vocabulary Appropriately
Using appropriate vocabulary and showing your command over language is crucial in essay writing. Therefore, you must cautiously select the vocabulary to use in your essay. If you are fulfilling a college assignment, you must not use words that make your essay sound like someone in a school wrote it. It's essential to incorporate advanced vocabulary in your essay to make it appear well-written by a college student.
5. Follow the Essay Prompt
As mentioned earlier, while writing an essay, you cannot just write whatever strikes your mind. Essays are college assignments with specific prompts that students need to follow. Your essay should not go beyond the instructions given in the prompt, as it may get rewarded with a negative grade. You can review each point it contains and ensure the essay you have written covers it before submission.