Home » 7 Ways to Generate Hot Content Topics that Get Thousands of Readers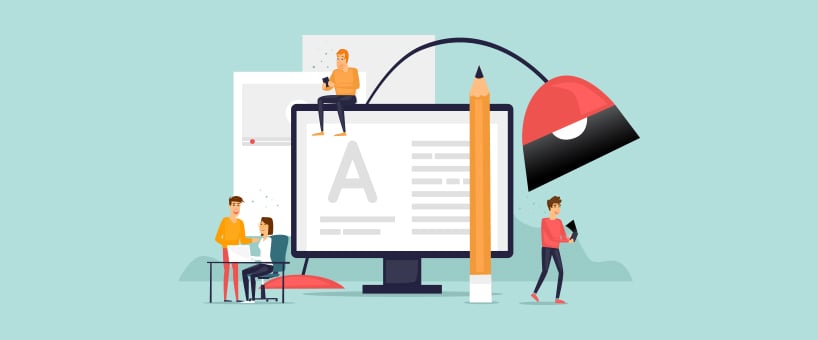 December 9, 2019
Are you struggling to find new and hot topics to write on? Have you written on every topic you had, and now you don't have any relevant ideas?
Don't worry at all. Most content creators and bloggers face this issue. But they cope with it using simple and effective tricks. This article will provide insight into the strategies writers use to find hot content topics that attract thousands of readers to their sites.
Before that, let's learn why content creators need hot topics to attract readers!
To analyze it, we need to find out why people read online content. The biggest reason is they want to educate themselves about different things happening around them or learn something new.
In short, their curiosity about various phenomena and need for information forces them to read online content. And that's why content creators need hot and trendy topics to answer readers' questions. Otherwise, they may not fulfil users' needs and attract more people.
Coming back to the question that brought you to the article!
7 Ways to Generate Hot Content Topics
Here are the best and most practical ways to generate and find ideas for your next blog posts or any other type of content. These are not only beneficial for textual content but also podcasts and videos.
1. Locate Audience Needs and Interests
To generate hot and trendy topics for your content, to know your audience's interests and needs. Before starting the process, you need the answer to two different questions;
For whom are you creating the content?
What are their needs and interests related to content?
Once you get the answers to these questions, you can find content ideas that will help you attract more audience and make your content more valuable and informative. Usually, most content creators write on the topics of their interests and forget their audience's needs. They make a huge mistake. Because until you are a celebrity or influencer, people won't be interested in your life, ideas, and beliefs.
Focus only on your readers, not yourself. But finding the audience's needs and interests is challenging. For that purpose, you need to communicate with them regularly.
2. Communicate with Your Readers
Web 2.0 succeeded because of its two-way communication model. Unfortunately, many bloggers have forgotten it. They are still relying on traditional methods. They don't get their audience's feedback or involve them in the communication process.
That communication gap is among the most prominent reasons content developers get short of ideas. 
It could be helpful if you maintain a good relationship with your readers. That's how you will learn what their needs are regarding content. You should encourage them to ask questions or give feedback. It will eventually help you get various content ideas and improve your content.
3. Discover Knowledge Gap
Discovering the knowledge gap is also great for finding hot content topics. You would have analyzed that most writers talk about the same issues and don't provide exclusive information to their audience. It happens when they don't research their topics. They just read a few articles and rewrite them to make a new piece of content. Their lack of knowledge production ability creates a huge knowledge gap.
To find hot topics, you have to discover that knowledge gap. Then, it can help you develop valuable content that answers the questions readers have in their minds. Although it will take some time to find the knowledge gap and research the topics, it will ultimately pay back. When you provide exclusive information, your content gets a better reach and appreciation.
4. Watch Recent Trends
Following recent trends in your niche is another great way to get thousands of new topics every month. The trends are like popular topics that people love to watch or read. The best thing is that they frequently change with time and new developments.
For instance, in the tech niche, you would have seen that the trends are changing with time. A few years ago, people were curious about Metaverse and Blockchain technology. Thousands of bloggers created content on it and attracted millions of readers.
Nowadays, ChatGPT and AI are trendy topics in the tech niche. Observe these trends, and you will find new ideas regularly. To learn more about the hot topics and trends, subscribe to newsletters, follow your niche's top content creators, and use Google Trends. 
5. Analyze Your Competitors
Your competitors can also help you know the topics you should cover. Analyzing competitors is one of the best strategies for finding knowledge gaps and developing innovative ideas. Moreover, it can also assist you in knowing about the topics that people love to read. You can check their most liked and shared articles and write on the same issues.
However, before selecting the competitors, you should always analyze who they are. While choosing your competitors, you should check the following things;
Their targeted audience
Their reach
The topics they cover
Type of content they produce
If they have the same targeted audience as you, their reach is incredible, and they cover similar topics, you should explore their content. They will not only help you generate new topics but also categories you should add to your blogs or websites. That's why competitor analysis is a must in the digital sphere.
6. Explore Various Online Forums
Online forums like Quora and Reddit are also helpful in finding hot topics. People use these forums to talk about certain things and get answers to their questions. Compile a list of frequently asked questions related to your niche, and you will be able to get plenty of ideas about your new blogs.
You can also use these forums to communicate with experts and get their opinion on specific issues and topics. Ultimately, these forums will not only help you get ideas but also learn how to improve your content. Moreover, these forums can also assist you in sharing your content and getting more reach.
7. Check Out Google Search Suggestions
Google search suggestion is created to assist users in their search and help content creators get content ideas. Google's autocomplete feature suggests some terms and keywords people frequently use to search for various things. Utilizing this feature lets you get many ideas related to your niche.
This feature helps you know the popular searches in real time. That's why you would have seen many content creators using them as a tool to search for ideas. This free feature is more valuable than many online paid tools that content creators use.
Final Words:
Nowadays, finding new and hot content topics isn't difficult. The internet contains thousands of ideas, but content creators don't know how to fetch them. There are many online forums, websites, and tools that help writers get insights into what people search for. Moreover, the readers also give ideas to content creators, but they ignore them. Therefore, it could be helpful to communicate with readers, get their feedback, and utilize every online forum to find topics to write on. That's how you can get audience attention and succeed in the digital world.