Home » General Articles (Random Topics) » Uses of Fonts in Social Media – How to Create Your Own?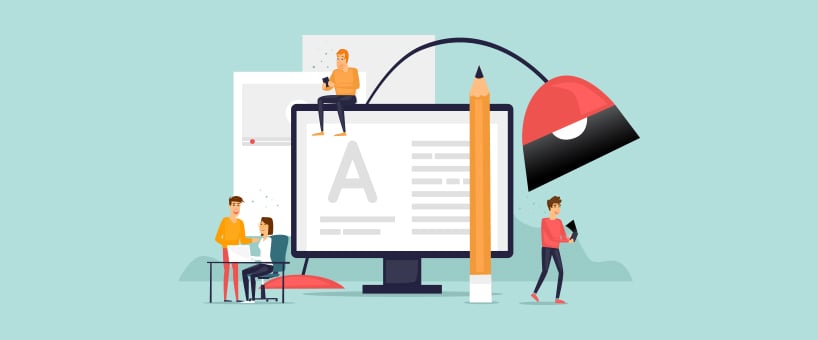 November 14, 2022
Billions of people worldwide use different social media platforms like Facebook, Twitter, and Instagram to communicate with each other. Some social media users even try to look unique and conduct various experiments in photography and social media captions to make it possible.
The urge to showcase the unique side is not limited to users only. Brands also take account of social media and try to reflect their unique sides with the help of creative graphics and impressive social media posts. Social media is the quickest and easiest way to spread information. And every business aims to reach out to a broader set of audiences and make them remember the brand's name.
Generally, we see text written in standard fonts, such as Calibri and Arial, and we are tired of these common font styles. We will discuss how fonts are used in social media and how you make small fonts that help you showcase your unique side. Further details are given below: 
Uses of Fonts in Social Media 
We have put together some details to help you understand how catchy fonts are used in social media.
● Enhancing Brand Awareness
To capture the attention of the targeted audience, brands actively work on their social media marketing strategy and campaigns.  We all know font styles play a crucial role in web and graphic designs. However, it is worth noticing that font styles can also act as a make-or-break factor in social media posts. Hence, we have seen a lot of brands paying attention to font styles for social media posts and campaigns lately. This approach allows them to grab users' attention and get effective results in terms of brand awareness.
● Helping Influencers
The use of fancy font styles in social media posts also benefits brands and social media influencers. The objective of such figures on social media is to attract as large a number of views as possible. This will help them attract more people to their posts and ultimately add to their followers. Using fancy font styles in the caption of social media posts can make them look unique. Their unique posts also help them to promote the brands they join forces with and sell their products through specially generated links. Hence, fancy fonts can help them make their posts noticed and get the required objectives from those posts. 
Process of Using Various Fonts in Social Media Posts 
It should be noted that mixing various font styles to write a social media post is trending these days. You can also use small text font styles individually or in combination with other fonts to write your social media posts. However, it is suggested that if you want to mix a few font styles to create a post, don't try to combine more than 3 font styles for this purpose. Otherwise, you will end up ruining your posts and confusing people who get to see those posts.
Before selecting the fonts to use in your post, it is essential to carry out A/B testing with multiple font styles. Moreover, ensure you analyze various font combinations, such as the title with one font style and the body with another. By doing so, you will be able to create the best font combinations for your social media posts to make them stand out.
Recommended Fonts To Use on Social Media 
Here are some font styles that will help you generate catchy posts to capture the audience's attention and grab more post views. Read on to learn more about these font styles.
1. Regular Font Styles
Here, we will name a few regular font styles that can make your social media posts attractive. Make sure you use display fonts for the headlines and others for the body.
Here are our top 7 picks:
Playfair
Nawabiat
Helvetica
Merriweather
Stay Writer
Moringa
Priscilla
2. Small Text Font Styles
As discussed earlier, small text font styles can also be handy when creating social media posts. These font styles can be used to reflect hierarchy in the text, write characters that are written above or below the regular text, and specific parts of posts that should look different from the rest of the text. If you find it difficult to create small text fonts, consider using an online small text generator. This will help you generate attractive small font styles quickly. 
Here are small text font examples: 
Superscript
Subscript
Upside down
Backwards
Bubble
Small Caps
Small Text
How to Create Your Own Fonts for Social Media Usage?
As we have discussed all the details regarding fonts that could be used on social media, you may think of creating your own fonts to provide a unique look to your posts that no one else can match. The creation of fonts comes in handy in such situations. We will discuss a few steps below to help you in this regard.
Define objectives regarding the font you are designing. This process includes deciding the font type, appearance, and use.
Don't take any previously used font style as a reference. Starting the process of designing a font style from scratch is the wisest decision.
Before you begin using a tool to design the font style, it is better to do it by hand. Doing so will bring clarity regarding the appearance of various characters included in it.
Focus on the control characters of your font style first. For uppercase, these characters will be 'H' and 'O', and for lowercase, 'h' and 'o'.
Now that you have designed control characters of your font style by hand, it's time to take the help of technology. Transfer your designs to your computer system.
Take the help of the most efficient tools to help you design the entire font style. A few of them are FontLab studio, Glyphs, and Robofont. Choose the one that suits you the most.
Once you have drawn the characters of your font style using any of the software mentioned above. Now, it's time to test those characters at line level and scale them accordingly.
Finally, check your font design using different styles, widths, and weights to figure out how to make it look more beautiful.
Final Thoughts: 
Fonts are not a factor to be ignored regarding social media posts. But compelling font styles can make social media users stop scrolling and pay attention to your post, ultimately benefiting you. However, you should ensure that the fonts used in your social media posts are relatable to the text. Otherwise, those fancy font styles will be of no use.
Thinking of designing your font style for unique social media posts is another practical approach to capturing the attention of the audience. However, you need to follow some protocols to create a beautiful group of effective letters. Hopefully, you will find this post helpful and use the above-discussed tips to make the most of your social media posts using beautiful fonts.