Home » General Articles (Random Topics) » What are Tiny Text Fonts and How to Use Them Effectively in Web Design?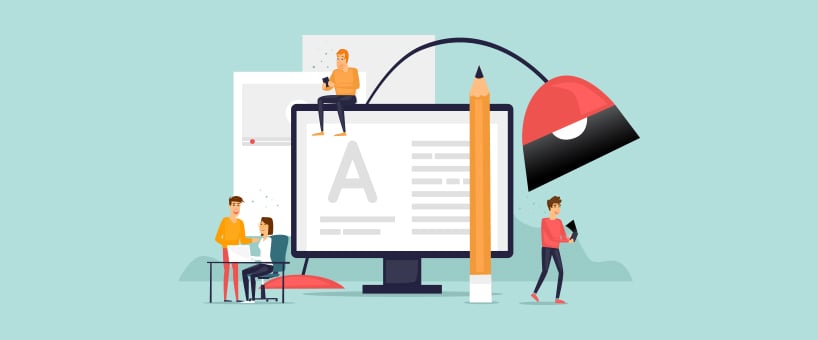 November 22, 2022
Text has always been an important design element of a website. Whether you need it for navigation or to display important information on your website, text plays a key role in delivering the information. While there is a wide variety of text fonts available to use on websites, the trend of using small text or tiny text is prevailing lately. Many websites are making use of tiny text fonts strategically to make their web design look more attractive.
If you are looking to make use of tiny text fonts in your web design, then it is essential to know about their various types. Additionally, you need to know the methods to embed those fonts effectively in your web design. We have covered some valuable details in this blog to help you effectively make use of tiny text. Read on to know more. 
What are Tiny Text Fonts?
Before we move on to discuss tiny text, it is necessary to understand its concept. While HTML is a scripting language that allows you to change the text size to some extent. But the creation of tiny text is not possible with an HTML script because tiny text is based on Unicode characters.
The simple text can be converted into tiny text with the help of encoded characters. After the conversion of text, you can easily copy and paste the converted text into the HTML script to make it a part of your web design. However, tiny text comes in a variety of font types.
So, before you move on to use tiny text on your website, it is better to understand its font types. 
Types of Small Text Fonts 
1. Small Caps
This small text style refers to the text written in capital letters, but the size stays equal to the regular text. Simply put, the text with small caps is used when you don't need glyphs in your text. Additionally, you may need to use tiny text with small caps when it is not suitable to use boldface or italicized characters.
It looks like this: Sᴍᴀʟʟ Cᴀᴘs
2. Superscript
This type of tiny text style involves characters that are written above the usual words or characters. Simply put, you can use superscript text to show any word or value that is written above the usual characters. 
Superscript generally looks like this: ˢᵘᵖᵉʳˢᶜʳᶦᵖᵗ
3. Subscript
Now coming to the superscript text style, it has a completely opposite writing style to superscript. Putting it simply, it is written below the usual characters or values. You may need the subscript text to write a chemical formula.
Subscript tiny text looks like this: ₛᵤᵦₛ𝒸ᵣᵢₚₜ
Some Other Tiny Text Styles
In addition to the main tiny text styles, there are some other styles as well. These tiny text styles include 'small text,' 'upside-down,' 'bubble,' and 'backward,' which look like this 'ˢᵐᵃˡˡ ᵗᵉˣᵗ,''ⁿʷᵒᵈ ᵉᵈⁱˢᵖᵘ, ''ⓑⓤⓑⓑⓛⓔ' and 'ꙅbᴙAwkↄAd,' respectively.  
Pro Tip: Don't know how to generate small text fonts? Use an online tiny text generator and create unlimited copy-paste small text font styles in a matter of seconds. 
How Can You Use Tiny Text Fonts Effectively in Web Design?
Now that we have a basic understanding about tiny text and its various types, it's time to discuss a few effective ways to use the tiny text in web design to make it more captivating.
It should be noted that while using text fonts in your web design according to modern trends, it is also essential to look at the targeted audience. Additionally, the type of content you deliver in tiny text fonts matters a lot. You can use tiny text effectively in your web design while keeping the following things in mind.
● Use Tiny Text to Make Your Web Pages Look Organized
We all know how much a web page is loaded with various types of content, including text and graphics. The lack of organization with this much content will result in a messy-looking page, which will not only ruin your web design but also annoy your visitors. Hence, you need to make your page look organized.
There is a possibility that you prefer to include loads of information on a single web page. However, as mentioned earlier, doing this will simply affect your web design. The best way to deal with this entirely is to classify various paragraphs and assign them a certain hierarchy.
The sentences or phrases that are highly important can be placed in larger sizes that are easily visible. Tiny text fonts can be used to include information that is of second priority and a small percentage of users would like to read it. Bringing hierarchy in text elements will also enhance the user experience (UX).
● Make Your Website Legible for Smartphones
In the past few years, the range of smartphone users has increased. People have moved to smartphones for browsing the web instead of using computers or laptops. They also expect the websites they open to be responsive and adjust their layout accordingly. While you can make other design elements highly responsive, there are chances that you face challenges while doing it with text.
The best way to avoid such problems and ensure an optimum user experience for the visitors who use their smartphones to visit your website is to use various tiny text fonts. Using different font styles can adjust the page content according to various sizes of other design elements and screen sizes. 
● A Perfect Choice for Navigation
With the urge to load the page with lots of information, many website owners tend to choose web designs that include a totally stripped navigation bar. This statement is especially true for homepages. However, it is observed that most users face challenges while navigating websites due to this act.
If you don't want your visitors to be troubled while navigating your website, you can use tiny text fonts for navigation options. Doing this will not only help you save significant space on the page, but your web page will look sleeker and more compelling as well.
Just make sure that the tiny text you are using for this purpose is clearly visible and easily clickable. Additionally, it is better to use a simple typeface that is perfectly readable as well. If you fulfill all these requirements effectively, you are more likely to impress your visitors with your web design.
Putting it Together:
The trend of using tiny text in web design is getting highly popular. However, before you try to follow the trend, you should have some basic knowledge about the conversion of regular text into tiny text. Additionally, you need to make sure that you are using the right tiny text font according to the requirements of content on your website and the ease of the targeted audience.
We have discussed all these things in this blog to help you build a captivating web design with tiny text. Hopefully, you will find this blog useful for the upcoming web design of your website!