Home » How Can Visual Content Improve your SEO?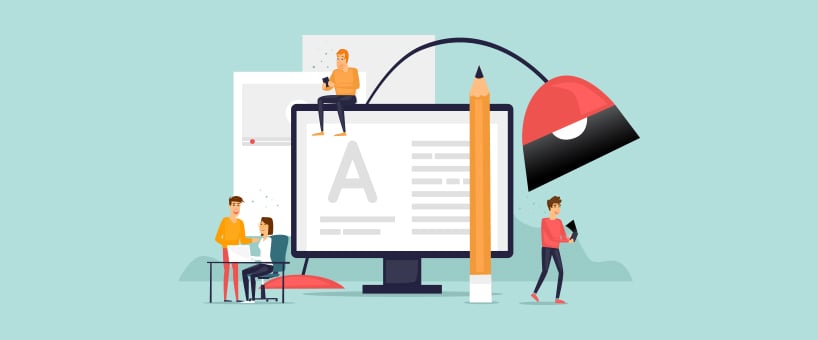 February 28, 2020
There was a time when achieving a rank on search engines was a matter of stuffing keywords and purchasing low-quality backlinks. But, things have changed drastically in the following years, and now there is no chance of playing a trick on search engines with black hat SEO tactics. Today, you have to face and do a lot for impressing Google to achieve top position in SERP. Well, it's evident because around 1.7 billion websites are existing on the web, and the number could be in thousands or millions for the niche you are working in.
Why Is Visual Content Important?
Moreover, today it's not just about relevant and engaging content to obtain a rank. You have to think out of the box to achieve what you are looking for. Many people have a misconception that the visuals, such as videos and images, can destroy their website's SEO.
However, the visual content plays a crucial role in improving SEO; that's what we are going to discuss in this blog. If you are putting visuals on a side, then after reading this post, you will surely consider revamping your SEO strategy. Visual content is exploding right now.
Most of the marketers cite visual content as their "most important" type of content.
What is visual content marketing?
Things to Know About Visual Content Strategy
What type of Visual Content Do You need to Use?
Images
Videos
Infographics
Memes
Presentations
Screenshots
Conveys More Information
Accuracy is demanded and admired by both search engines and users. And visual content helps you in providing precise info. A visitor will make up his mind in around 10 seconds to continue exploring your web page or close it.
If your website is comprising only on textual content, then it's very unlikely that users will stick longer on it. Visual content like Gifs, videos, images, or infographics can do the trick of catching the attention of visitors and making them eager to fully explore your site.
Visuals Attract Backlinks
Backlinks are an integral part of any site's SEO, and getting backlinks from authoritative websites can help you achieve new heights of success in SERP. This task can be accomplished with the help of visuals. For instance, the infographics representing some major statistics of your industry will be worth sharing, and similar sites will generate natural backlinks to the original source.
Similarly, if you upload unique and high-quality images on your web pages, then other sites will be eager to use them. Many sites might not provide a backlink, and to catch them, you can do the reverse image search. This tool will help you explore similar images available on the web. If they are using your images without providing a backlink, then feel free to find their contact information and ask them to cite your images with a link. Most of people have not given credit because they didn't know they had to so. So if you ask politely they will probably oblige, securing one or more backlinks to your site.
Improves Dwell Time
We all know that more time spent on a website improves its ranking in Google search results. This is very true after Google's Rankbrain algorithm. Having a video in your content gets the user to stick around and watch the video, for instance. The same is the case for infographics and images within blog posts and product pages. Visuals add a feel-good factor to a business digital presence.
Makes A Connection
Google focuses on ranking those websites that are providing the best user experience to the visitors. It can't be achieved if you only have text all over your site. On the same side, visuals alone can't do what you want. Hence, you have to take both of them together. A supporting video, gif, image, or infographic with the text can help the viewer in understanding the message or information you are trying to convey. It will aid your SEO and result in enhancing your site's ranking in search engine result pages.
Yes, it's somehow true that visuals can destroy your SEO, but when? Let's discuss that!
Size and Quality – The Danger!
Visuals can improve your SEO only if you don't put yourself in danger by uploading heavy-size images and videos on your website. Yes, you cannot compromise on quality, but there is still a way out for uploading them without getting into any problem. To upload videos, you have to understand how to properly embed them without hurting the SEO. Without proper embedding, the load time will increase, and many users will close the site if it doesn't get loaded in 3 seconds.
In the same way, uploading humongous images will slow down your site's speed. But you can prevent it after compressing images. This tool will allow you to reduce the size of the images without hurting their quality.
Conclusion
That's how visuals can improve or destroy your SEO; you can see that everything is in your hands. By using some smart tools, you can get the best outcome for your site with visual content. With the help of visuals, make your website engaging and enjoy high ranking in Google and other search engines.